MUSIC FOR MY SOUL is absolutely the most go getter intelligent dog bursting with eagerness to please.. Music is ding well in conformation and excelling at Top Dog sports. She will be shown UKC when she earns ADBA CH.
Rumor is a Joker daughter out of an outcross breeding to a bitch of RBJ bloodlines. Proving herself in weight pull taking P4P trophy at Nevada show May 2017. High drive, but not solid on willing to please trait.
Rumor has been taking 1st places in WP and nose to nose for MWP trophy at her 2nd competition.
CH/ACE "DANCING IN FAITH"
Faith is a daughter of Dolly and Dancing With Danger- a second breeding and the last of those two dogs. This girl has tons of spunk and confidence. Faith has earned her "ACE" weight pull and CH title. She is now retired and lives with my sister in N.D.
Faith weighed in at 28lbs,took home the P4P trophy to finish her ACE title in weight pull at the 2014 Idaho show.
Utah show, Faith took three 1st places in conformation. Only 12 more pts and she will earn CH title too!

Moon was our up & coming agility dog, but did not meet our expectations due to lack of focus. You may view her in action  on the video page or "event result pages". Moon is  a daughter out of Dolly's second litter and sired by Danger- very athletic with endless drive..She has been spayed and retired to a pet home.

CH/ ACE/UWPCH "MISS DOLLY" SD1
Dolly... what  can I say... she is one of my most favorite dogs. She , too,  weighs in at 35lbs with endless drive and about as sensible & level-headed as a dog can be. That is why she  became my motorcycle riding companion  :)
Dolly is the dam of CH/ ACE of ACE I "U Gotta B Jokin", "Moon Dancer", ACE "Dancing In Faith" & UKC CH/UWP CH/ACE "Tiny Twister".
Dolly at  8 yrs old, spayed and retired- This dog amazes me! At her age she still outruns in speed and distance all our younger dogs..she loves to run!




Dam- JINX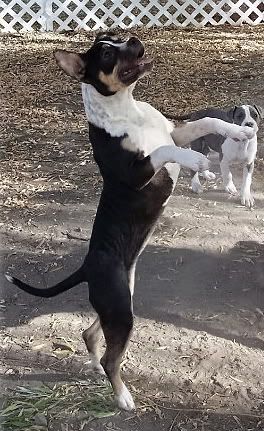 Sire- BOUNCER
"     
ACE/ UWPV UWPCH "CHYNA GIRL"
Chyna is a daughter of Bouncer and dam to Danger and Chase. 35lbs of action and drive, now she is spayed & retired.