WOOWOO!! On Saturday, Ivan took Moon to her first agility competition.. She got 3rd in her class against 12 dogs.. I don't know exactly how the details go with agility as I have yet to compete at a pointed event.. but she also was the 2nd dog in line with least number of faults.. the numberdog did a perfect run.. Considering we haven't practiced since Sept and this was Moon's first competition trial, it was still a success being the first time out..Ivan said alot of ppl had good things to say about his "pit bull".

Moon and Ivan ROCK!! so on Sunday Moon made a qualiifying run in Touch N Go taking a 4th place and a qualifying run in Tunnelers taking a 2nd place.. she earned points at her very first agility competiton!!!!.. I am thinking if Moon had not been on a 3 month lay off from agility training she would have achieved even more qualifying runs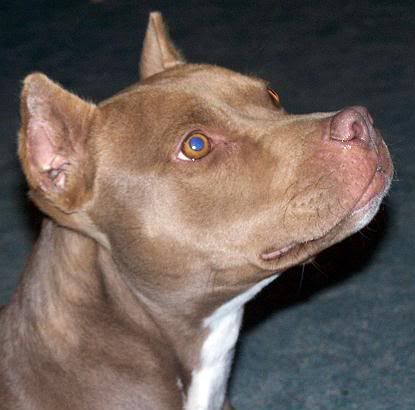 Dolly achieved her CH title taking a 1st place on Saturday in a class against 7 dogs.. YAY!
Chyna took a 1st in weight pull on Saturday & earned her ACE title. YAHOO!! Whoops, we didn't think to take pics on her last pull ever, so here's an old pic..
Twister took two 2nd places..He barely had two weeks of conditioning.. we just didn't have time to do better for him :(
Chase took a 1st & a 2nd place in weight pull. He came real close for the P4P on Saturday. Took a 2nd place to the dog that won the trophy. Sunday he took 1st over that same dog, but darn it anyway.. That TC dog had to come along and steal the P4P on Sunday.
And last, but not least- Joker took a 1st and a 3rd place in conformation. We did not pull him this show. We chose to hold him out so he can bring his conformation points up closer to his weight pull points.
It was a great end to 2011 show season.. titled our girls.. no more work for them unless it's fun activity, which they always love to do..
Sent Joker with a friend to this show. He took a 1st and 2- 2nd places in conformation. Also took a 1st & the P4P trophy in weight pull. I have found that sending a dog to a show and hearing about the wins just doesn't work for me. It is part of the fun to attend and compete at the events with one's dog/s.
"Dream Chaser" took two 1st places & also P4P over both Chyna & Joker on Saturday at SLC ADBA show this weekend. Although Chyna & Chase were tied in % , Chase took the P4P by time.. and we sure are liking how this lil 34lber is pulling.. this is his 2nd time in competition.. Ivan's "lil man". Sunday there was a 3 way tie for P4P.. Chase, Chyna and Adam Torres "Ruby" , but that danged Mr Furley came in and beat the three tied dogs by .02%. It was a great day just having two of our dogs on the top of the heap for p4p both days..
Chyna took two 1st places and would have achieved her ACE title had her son not took the P4P win.. DARN IT ANYWAY!!
Joker took two 1st places in weight pull and one 2nd place in conformation. Just wasn't his best weekend for conformation.
Dolly took three 2nd places in a class of 5 dogs.
ADBA WASHINGTON SHOW JUNE 2011
Dolly achieved her "ACE" title this weekend!!!
Twister weighed in at 47lbs- max pull was 2435lbs- took home a 1st & 2nd place.

Joker needs to learn to stay on the track better...
Joker weighed in at 39lbs - max pull was 2875lbs- took home two 2nd places in WP.
JOKER HITTIN IT.MOV


Chyna was not rearing to go that day at all. Usually I have to restrain her from pulling while I am hooking her up.. maybe it was the heat??
Chyna weighed in at 36lbs- maz pull was 2435lbs-took home two 1st places. No show pics
CHYNA ADBA WA 2011.MOV
and the best for last.. Lil Chase did well at his first competition.. Ivan did well training his boy..
Dream Chaser weighed in at 35lbs- max pull was 2275- took home two 2nd places
CHASE AT 2275lbs.MOV
Joker took a 2nd and 3rd in conformation

Dolly took two 1st places, but there were no dogs in her class...
ADBA COLORADO SHOW JUNE 2011
Dolly took a second and third place in confo- Laramie pulled Dolly for the first time.. No competition in Dollys division-- 2 first places. Dolly weighed in at 33lbs. max pull of 1540lbs. She only needs 4pts to achieve her ACE title
http://youtu.be/-eUcuPsaXcI


Joker took first and a 2nd place in Confo.. and two first places in WP and P4P trophy on Sat he weighed in at 40lbs and pulled max of 2140lbs..
http://youtu.be/okVs3CZ0vQ4

Chyna tood a second on Sat in WP and then sunday a first and P4P trophy. She weighed in at 36lbs and max pull was 2020lbs..
http://youtu.be/Ey1aHiGn7rg


Although there wasn't heavy competition at this event, Chyna did us proud by taking home P4P and MWP all 3 days!!! Chyna is now UWPV CH and has 100pts towards her next pull title in UKC
Dolly did us proud this year achieving 3rd in WP ranking for ADBA!!! Danger made ranking too, but he was deliberately held back so that Dolly would take P4P at one of the Utah shows, otherwise Danger would be higher in the rankings. nevertheless, two of our dogs made the cut!!! It has been a great year :)
Rank RankPts( number of dogs won over) Dog Name Sex Owners Trophy 1st
1 54 SWOGGER'S "LIL KIM OF CRUZ" F KATRINA CRUZ & RUBEN CRUZ 4 5
2 41 HILTON'S "NIGHT TRAIN" M GARY HILTON 2 2
3 39 JOY'S "MISS DOLLY" F JOY VELAND 3 4
4 38 TWO-BIT'S "ACE" ROCKET-DOG" F TWO BIT KENNELS 3 5
17 14 DILLINGER'S "MARYLIN MONROE" F ANGELA DILLINGER 0 4
18 13 PHIPPS' "NO SHE DID IT ALL" F BARRY D PHIPPS 1 2
18 13 JOY'S "CH"ACE" DANCING WITH DANGER" M JOY VELAND 0 5
19 12 POWELL'S "AWESUM H2" M BRUCE POWELL & TAMMIE POWELL 1 1